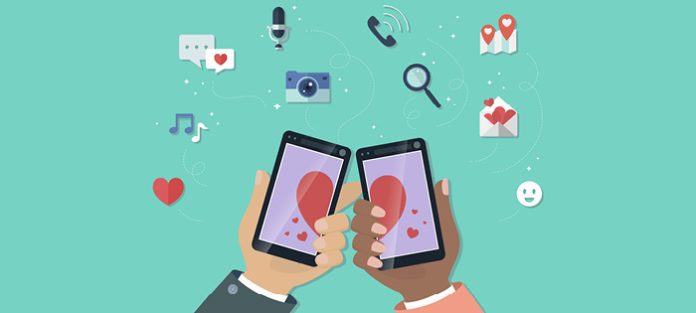 Dating has come a long way since the days of passing handwritten notes in class. These days, it's all about swiping right and left—and DMing on social media. Whether or not you've used an actual dating app, you're probably doing a lot of chatting and flirting online, which is a type of online dating in itself. In fact, nearly 80 percent of students who responded to a recent Student Health 101 survey agree that most high school couples begin dating after a combination of online and in-person flirting—and 34 percent say they've dated someone they met solely online.
What do students find appealing about dating and chatting online?
"You have time to go back and delete or edit what you're going to say before it's out there in the world."
—Dahlia, senior, Cleveland, Ohio
"I like being able to 'get to know' someone at a glance just by looking through their posts and photos."
—Zachary, sophomore, Brooklyn, New York
Our brains and online notifications
Research shows that when we look down at our screens and see a new message or "like," a reward response is triggered in our brains. "Part of the draw is that online platforms give the impression of being able to communicate with someone immediately, 24/7," says Dr. Mitch Prinstein, author of Popular: The Power of Likability in a Status-Obsessed World and director of clinical psychology at the University of North Carolina at Chapel Hill. "But another important factor is that our brain responds to online attention—likes, comments, and direct messages—with a 'reward' signal. This rush of pleasure is actually caused by the same neurochemicals that take effect when people use recreational drugs, so it's intense. Even potentially addictive."
Don't worry—it's totally normal to get that jolt of excitement when your crush comments on your latest post. But it's a good idea to keep your online communication in check, especially in favor of bonding with someone IRL (in real life).
Here are some golden rules for fostering successful relationships, online and off

In a 2015 Pew study, over 77 percent of teen respondents (ages 13–17) agreed that people are less authentic on social media than in real life. So even if you think you're developing feelings for someone based on how they appear in their feed, real-life interaction is crucial for truly getting to know them.
"What's happening online is very curated and premeditated. A text might even be crafted with the help of others. In that sense, it can actually make it harder to truly get to know somebody," says Dr. Prinstein.
You can't control what others are putting out there, but you don't have to be part of the problem. It's OK to ask friends for advice on what to say to a crush, but it should still sound like you by the time you hit "send." As for your profile and posts, keep in mind that any real relationship will ultimately lead to face-to-fact contact. If you enhance, manipulate, or flat-out lie about yourself in your online presence, the truth will eventually come out—so there's no sense in delaying the (potentially embarrassing) inevitable. Besides, why waste your phone data on someone who doesn't like you for you?
"Don't change your personality to complement the person you're talking to. It might seem like a good idea, but once you meet them in person, it can go downhill."
—Kyle, sophomore, Washington DC
Everyone loves a good filter, but skip the intense photo editing apps that blur, minimize, and augment.
Curious to know how your online persona reflects the real you? Ask a close friend to tell you honestly.
Ask yourself whether you really do like a post before you double-tap it. According to Dr. Prinstein and a 2016 study published in Psychological Science, our beliefs can be swayed when we see any kind of behavior getting lots of "likes"—even if what we see getting likes isn't something we would have supported otherwise (such as bullying or discrimination).
It's pretty sweet to be able to swoon over pictures of the person you like. Just make sure you don't go overboard by nonstop checking their status updates, tagged photos, and stories—that can lead to major jealousy or paranoia. Who's that guy who commented on Alex's last post? Who's that girl tagged in the picture from last night's party?
"I couldn't stop playing detective and constantly checking my boyfriend's tagged photos. I would look at his friends' Instagram stories to see if he was with them and what he was doing. I'm not even a jealous person, but it's really easy to 'stalk' someone online, so it can become a bad habit."
—Jacqueline, senior, Houston, Texas
In some cases, the same ease of communication that lets us meet new partners online can make us paranoid once we're in a relationship. Almost every social media platform has direct message capability, so it takes a lot of trust not to worry that someone else will be messaging your partner in private. It's not just a struggle in young relationships: A 2014 study showed a link between higher social media usage and unhappy marriages. So in the name of love, think about taking some of your romantic interactions offline.
Take a moment to check in with yourself: Are you avoiding or ditching plans with friends to spend more time chatting with your crush online (or even just staying home and refreshing your snap stories)? That's a good indication that you may be going overboard. Instead, try getting out of the house to spend some quality time with friends, and maybe even invite your crush to join. Here's why a little less screen time can make your life much better.
Need another way to stop checking your crush's feed and stories every time you look at your phone? Turn off your notifications for certain apps, such as Instagram and Snapchat, or try logging out and make sure the apps are set to forget your login information. The obstacle of having to input your info when you want to log in may help discourage mindless creeping (and encourage a little social media break).
It's common for people to feel more confident when talking to potential romantic partners online, where there's less worry about saying something awkward or facing rejection in public.
"I like the response time I have between messages. Suddenly I can be witty to a point I wouldn't be in public, where I might be tongue-tied and stuttering."
—Alissa, senior, Santa Cruz, California

The key is to harness that boost of confidence and use it for offline relationships.
"In some cases, social media can cause people to retreat even more, to the point that they're relying on apps for most communication. That's a sign that they're using social media as a crutch," says Dr. Prinstein. "If you only interact with a partner online, you miss out on developing the skills you'll need for a lasting real-life relationship, like asserting your needs and solving disagreements, both of which are best done in person."
Before you're in too deep with a partner you met online—sharing intimate thoughts and plans, or using the L word—make sure the spark is there in real life.
"When we rely too heavily on digital communication, we lose some of the emotional connection that comes from being physically present with someone else. Text messaging a conversation isn't the same as having a face-to-face conversation, which also includes nonverbal cues [such as body language, voice, eye contact]," says Dr. Heather Blunt-Vinti, a researcher on relationship satisfaction and assistant professor in the Department of Public Health at the University of Arkansas.
Nervous about connecting in real life? Asking questions is an easy way to get the conversation started.
"Ask them about their hobbies, their goals, their thoughts and values, or what they like or dislike about school," suggests Dr. Blunt-Vinti. "And take your time getting to know them, especially before a relationship becomes physical. In our research, the teens who knew their partners longer and knew them better were more likely to be satisfied with their relationship than those who didn't know them as long or as well, which happened to be the people they met online."
That's not to say that what starts online can't flourish into a real, satisfying relationship—it just requires some old-fashioned time and commitment.
"I met my boyfriend in person for the first time after we had been chatting for a month. I was really nervous, so we planned a group lunch with a few of his friends and mine. It ended up being a good idea because there were no awkward silences, plus I could ask my friends what they thought about him afterwards. It felt natural."
—Cassie, senior, Miami, Florida
Don't invest too much before establishing an in-person relationship. (If you're already planning to apply to the same college or discussing how many kids you'd like to have, you're probably moving too quickly.)
When dating online, the ideal time to meet someone for a first date may be 17–23 days after you started communicating, according to a 2014 study in the Journal of Computer-Mediated Communication. The researchers believe this window provides a good amount of time to start getting to know someone without losing interest by waiting too long.
Listen to the other person. It's instinctual to focus almost solely on what you're saying during a date, but you're still trying to figure out if this person would be a good romantic partner. Ask thoughtful questions and pay attention to their replies.
This is common sense: Your first real-life encounter should be in a safe, public place, and you should always tell a parent or guardian where you're headed.
"I like to meet at the movie theater. It's a busy place, plus there's minimal pressure to make conversation right away. Once you've sat next to each other for a movie, if you're feeling comfortable with them, you could even grab dessert at a coffee shop afterwards."
—Brian, junior, Burlington, Vermont
Before you go:
Do your homework. "Check your potential date's social media accounts to see if any photos or activities make you uncomfortable," advises Julie Spira, an online dating expert and digital matchmaker. If every photo shows them arm-in-arm with what looks like a significant other or doing something sketchy, you may want to take a pass.
Tell someone. Along with telling your parent or guardian, it's a good idea to tell a friend or sibling where you are, your date's name, and how long you expect to be out. In a worst-case scenario, someone will always know where you are and whom you're with. Have your friend, parent, or sibling follow up if you don't check in by a certain time.
While you're there:
Keep it short and meet in public. The goal of your first meeting is simply to meet face-to-face and say hey, says Will Meyerhofer, LCSW, a New York City-based author and psychotherapist. Rather than dinner, where you might get stuck making awkward small talk for an hour, schedule something more casual for your first meeting to see if you hit it off, and make sure you're meeting in a public place the first few times so you're safer in case anything gets weird. "I call the first date the Starbucks date," says Meyerhofer. Keeping it casual over coffee means you can easily split if something feels off or your date turns out to be a dud (those to-go cups can come in handy).
Go with a group. "Sometimes it can be nice to invite an online match to a group activity," says Brooke Sprowl, LCSW, an individual and couples therapist in Los Angeles. "Then there's a little less pressure." Just be sure you're both clear it's a group thing before meeting up—no one likes walking into what they thought was going to be a one-on-one date only to find a dozen of your friends there. Suggest that you both bring a few people to keep the group balanced.
After the date:
Refuse a ride. It might be polite of your date to offer you a ride home, but wait until you know them a little better before accepting, advises Spira. "If things go south, you won't want them showing up on your doorstep."
Trust your gut. Is a little voice in your head telling you there's something unsettling about this person you're meeting for the first time? Listen to it and don't be embarrassed to cut things short. "If you have a creepy vibe from somebody or something feels off, shut it down," says Sprowl. If it helps, think of a pre-planned excuse to leave in case you want to get out early. For example, tell your date ahead of time that you have to be home at a certain time and text your parent if you need them to swoop in "early" to pick you up. In a pinch, head outside or to the bathroom and call someone to come get you. When all else fails, just leave. No matter what, listen to your gut and don't be afraid to use an out.

"Dating as a young person means learning about yourself and how you behave when you are in a relationship. Take your time and pay attention to your gut as you get to know someone."
—Amy Lang, MA, author and expert on teen intimacy and relationships, Seattle, Washington
All student names have been changed
Get help or find out more
Article sources
Heather Blunt-Vinti, PhD, MPH, assistant professor in the Department of Public Health at the University of Arkansas.
Amy Lang, MA, sexual education expert and author of Birds + Bees + Kids in Seattle, Washington.
Will Meyerhofer, JD, LCSW, author and psychotherapist, based in New York City.
Mitch Prinstein, PhD, author of Popular: The Power of Likability in a Status-Obsessed World and director of clinical psychology at the University of North Carolina at Chapel Hill.
Julie Spira, online dating expert and coach, based in Los Angeles.
Brooke Sprowl, LCSW, individual and couples therapist, owner and director of My LA Therapy.
Blunt-Vinti, H. D., Wheldon, C., Mcfarlane, M., Brogan, N., et al. (2016). Assessing relationship and sexual satisfaction in adolescent relationships formed online and offline. Journal of Adolescent Health, 58(1), 11–16. doi:10.1016/j.jadohealth.2015.09.027
Lenhart, A., Anderson, M., & Smith, A. (2015, October 1). Chapter 4: Social media and romantic relationships. Retrieved from https://www.pewinternet.org/2015/10/01/social-media-and-romantic-relationships/
Nesi, J., Widman, L., Choukas-Bradley, S., & Prinstein, M. J. (2016). Technology-based communication and the development of interpersonal competencies within adolescent romantic relationships: A preliminary investigation. Journal of Research on Adolescence, 27(2), 471–477. doi:10.1111/jora.12274
Ramirez, A., Sumner, E. M., Fleuriet, C., & Cole, M. (2014). When online dating partners meet offline: The effect of modality switching on relational communication between online daters. Journal of Computer-Mediated Communication, 20(1), 99–114. doi:10.1111/jcc4.12101
Roberts, J., Honore Petnji Yaya, L., & Manolis, C. (2014). The invisible addiction: Cell-phone activities and addiction among male and female college students. Journal of Behavioral Addictions, 8(1), 39–51.
Sherman, L. E., Payton, A. A., Hernandez, L. M., Greenfield, P. M., et al. (2016). The power of the like in adolescence: Effects of peer influence on neural and behavioral responses to social media. Psychological Science, 27(7), 1027–1035.
Smith, A., & Anderson, M. (2016, February 29). 5 facts about online dating. Retrieved from https://www.pewresearch.org/fact-tank/2016/02/29/5-facts-about-online-dating/
Student Health 101 survey, August 2017.
Valenzuela, S., Halpern, D., & Katz, J. E. (2014). Social network sites, marriage well-being and divorce: Survey and state-level evidence from the United States. Computers in Human Behavior, 36, 94–101. doi:10.1016/j.chb.2014.03.034